Madison Suffers a Serious Blow

On June 24, 1895, the steady work at the long running Silver State Mill came to a swift halt, as a mysterious fire turned the landmark mill into a heap of ash. All the Paradise people could do was watch it burn. The mill owners were devastated, for they just spent $5,000 remodeling the mill between 1894 and 1895. But they remained in business and started the rebuilding as soon as the ashes cooled.


| | |
| --- | --- |
| M.G. has the elected job as Constable of Paradise Valley in 1894 | |
| | |
In record time, a new mill was being erected during the summer on the same site. But the building of the mill was not the type of work Madison's health would have allowed at that time.

The summer before the fire, in 1894, Madison suffered a serious blow to his right leg when a horse kicked him. His right leg was broken, and it would be a full year before he would be able to work at any type of heavy labor.

At the time of the broken leg in 1894, he did have the elected job as Constable of Paradise Valley (peace officer). He was even running for another term, in the fall of 1894, but he lost the race. The accident could have played a role in losing the race, but he still carried out his duties until his term expired at the beginning of 1895.

During the early winter and spring months of 1895, Madison seemed to have been at home, still recovering from his broken leg. Work was scarce, even with the mill running in the winter months. If he did work at the mill, he apparently had to work more as a supervisor than a laborer. He was known for his expertise in all aspects of the mill trade.

At home, Bessie and Myrtle continued their school year. They would attend social events and activities at the local school and Methodist Church. Louise was active in social events too, especially with church. I have found her very involved with church throughout her Nevada years. She was especially interested in social work.

But Louise was also pregnant during this time, so her activities may have been curtailed.


'Silent Flower' Born

Madison recovered from his accident by the summer of 1895. With the mill burnt to the ground, and his physical condition not at a prime, he had to find employment.

Haying was a huge job in Paradise, requiring the help of hundreds of men to cut and stack the hay. Wagon drivers were needed to move the hay in the thousands of acres of alfalfa fields in the valley.

Madison easily got a job that July and was casually driving his wagon team through a field, when one of wheels rolled into a rut. Purviance lost control and took a nasty spill from the top of the wagon.


| | |
| --- | --- |
| 'Olga Edna Purviance was born October 21, 1895' | |
| | |
Once again, Madison was laid up for many months with neck and other injuries, but during this recovery, a very special event occurred for the whole family.

Madison's last daughter born would place his family into the history books of film legends and the man to do it was six years old at the time in London, England, with many tough years in store for him. But that Englishman's future leading lady arrived in Paradise Valley in the fall of 1895.

Olga Edna Purviance was born on October 21, 1895. Edna Purviance, as she became known, was the youngest of the three daughters. Bessie was 13 and Myrtle was 11 when Edna was born. The three girls were described as very pretty, with all three having blond hair.

Louise was 31, and Madison was 46 years old when Edna was born. Unless the other child reported dying in the cenus report is found later, Edna appears to be both Madison's and Louise's last child. Neither parent would have any more children.

To help pay for this new addition to the family, Madison's job prospects improved too.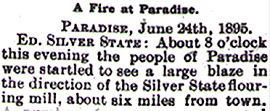 Silver State Mill Fire -
From Silver State - June 26, 1895 edition
Winnemucca, Nevada








M.G. Purviance runs for Constable in the fall of 1894
Silver State - October 25, 1894
Winnemucca, Nevada







M.G. Purviance bringing in his man
to Winnemucca for arrest.
Silver State - November 22, 1894






Silver State - July 25, 1895








Edna's Grandmother, Mrs. Richard Davey
visits Paradise from Winnemucca.
Silver State - March 6, 1896






Edna - Humboldt Museum Exhibit